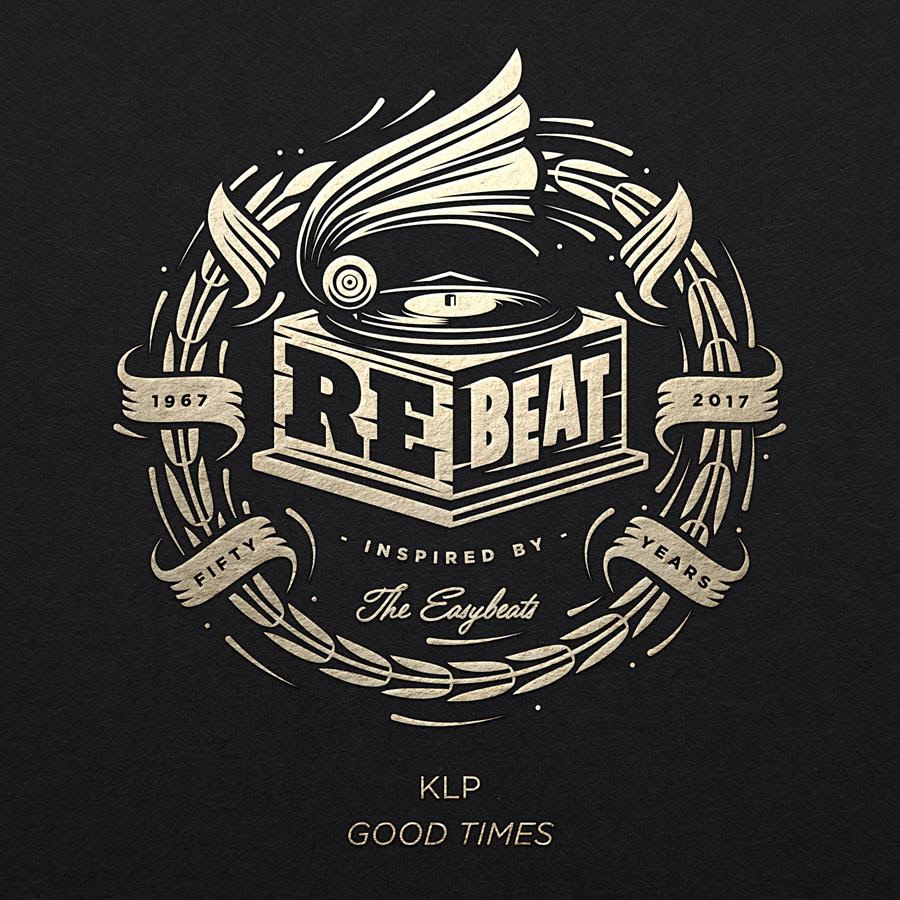 . 
.
Continuing a month long celebration of the music of iconic Australian band

The Easybeats, KLP

releases her version of their music loved 1968 hit, 'Good Times'. It was 'Good Times' that caught the ear of Paul McCartney, who upon hearing the song on his car radio, called BBC Radio to request a repeat play.  It has been covered by everyone from Meatloaf to Jessica Mauboy, with the 1987 version by INXS and Jimmy Barnes reaching No. 2 on the ARIA Charts, also charting in the UK and US.
'Good Times' comes from Easybeats tribute EP

Rebeat

, released on

November 24

– the five track line-up also featuring

Daniel Johns

and

Boom Tish, The Bamboos

featuring

Montaigne, LDRU

featuring

Nicole Millar

and

San Cisco

.
KLP is thrilled to honour the Easybeats, saying, "My dad is a musician and actually worked at Alberts around the same time as Vanda and Young were hitting their stride – so it's so nice to be able to be involved in something that connects us through time and music history.
I chose to record Good Times because everybody loves a good time – that song literally sounds like one big party. I started by playing some chords on piano and figuring out a way to sing the vocal in my style – it was also important to find a slightly slower tempo that could work with my vibe. I then enlisted the help of my dad to play some live bass on the track to give it a bit of groove – he did it in his studio and sent it to me just over email – the beauty of the Internet! Then the rest was just me singing in some gang vocals and adding some extras layers until I felt like it was sitting in a late night drunk disco space!"
On

24 November

Alberts/BMG will also release the 1980 Easybeats album Absolute Anthology 1965 – 1969 on 2LP set; a 43-track compilation compiled by Ted Albert in the late Seventies. The songs were digitally re-mastered by Don Bartley from the original tapes; obtained from the Alberts archives. The artwork and extensive liner notes have been beautifully reproduced by Sydney design agency 3DUX, a process that has taken months to perfect. Pre-order the 2LP HERE.
Absolute Anthology 1965 – 1969 is available on 4CD and digital and streaming services HERE.
Coinciding with

Ausmusic Month, ABC

will premiere

Friday

On My Mind, a major two-part mini-series on The Easybeats. Written and directed by award-winning team

Chris Lee

and

Matthew Saville

respectively, it will air at

8.40pm

on Sundays,

26 November and 3 December

on ABC and will be available on ABC iview. Watch a preview HERE.  
Easybeats merchandise is available now, including a newly designed shirt featuring the Travis Price designed Rebeat artwork.  Fans can also access The Easybeats official Youtube and Facebook pages.
Rebeat, released

24 November

.
.
.
Tracklisting:
1.     Boom Tish – 'Hello, How Are You' (out now)
2.     KLP – 'Good Times' (released today)
3.     The Bamboos feat. Montaigne – 'I'll Make You Happy' (released

17 Nov

)
4.     LDRU feat. Nicole Millar – '

Friday

On My Mind' (released 24 Nov)
5.     San Cisco – '

Friday

On My Mind' (released

24 Nov

)
.
.
Easybeats

fast facts: 
·       In 2001,

Friday

On My Mind was voted the best Australian song of all time
·       In 2004, Harry, George and Stevie were the inaugural songwriters to be inducted into the Australian Songwriters Association Hall of Fame
·       In 2005, The Easybeats were inducted into the ARIA Hall of Fame
·       In 2007 Australian Music Magazine selected the Villawood meeting of Harry and George as the most significant event in Australian pop and rock history
·       Ted, Harry and George worked together for nearly 30 years, helping create and support many of Australia's most revered artists, songs and recordings
·       A year after his death in 1990, "The Ted Albert Award for Outstanding Services to Australian Music" was created – it remains one of the highest honours in the Australian music industry
.
'Good Times' by

KLP

released today
Download / stream HERE
.
'Hello, How Are You' by

Boom Tish

out now
.
.
AMNPLIFY – DB
My nickname is "The Amnplifier". Why? Because around here my focus is on being a conduit for providing greater outcomes that people come here for. My day to day "work" is living in the moment, and I love helping others concentrate on finding their connection to themselves through their experiences.
Why start a music environment? The truth is I love music, I love writing, and I love life. I work with musicians every day, and I feel certain that I will be until they put me in the ground. I have been managing people in businesses of some sort for over thirty five years so along the way I have developed some "wisdom" from my regular and constant "observations".
Amnplify your experience. That is what we want you to do here, and if you want to let me know why you do, or don't, shoot me a message on Facebook.
Hope you enjoy yourself here and find something that hits you somewhere.